I offer different workshops to deal with all aspects of body pain and injury, restore & revive the body and for anyone struggling with creating a routine, losing weight, struggling with fatigue, brain fog or insomnia.
Cultivating Emotional & Physical Balance Series
​These workshops encourage people to deal with all aspects of their pain and injury – both the physical and emotional impact. This is not a workshop that emphasizes specific physical exercises, but instead focuses on healing emotional trauma, of any injury or chronic pain first, and then using knowledge of muscles and anatomy to heal the body.
The goal of this series is to cultivate emotional and physical balance with the over-all body. 
Erica wants to teach people to experience joy in physical movements (instead of focusing on limitations) and joy in the life and body they have. To also better understand why their injury happened and what they can do to prevent injuries in the future. 
Erica designed these workshops for people wanting to deepen their understanding of their body/injury and for movement professionals needing guidance with teaching to clients dealing with chronic pain and injuries.
Back Injuries and Conditions
Shoulder/Neck Injuries and Conditions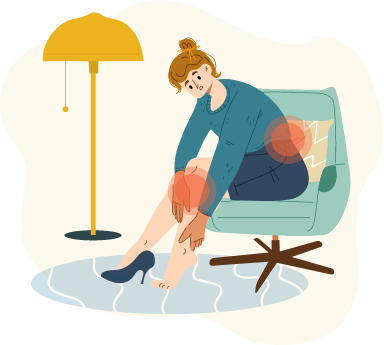 Knee/Hip Injuries and Conditions
*Scoliosis for Adolescents
*Since being diagnosed at age 11 with Scoliosis, Erica has always wanted to help other adolescents. This focus is suitable for adolescents with scoliosis who want to learn more about their body and movement professionals that want to work with adolescents. It teaches movement professionals how to nurture, educate, and grow the understanding and importance of acknowledging the emotional impact of rehabbing Scoliosis in adolescents. Erica based this focus on her work for a year with a 17-year-old female with Scoliosis and her rehabilitation process after undergoing Vertebral Body Tethering (VBT) surgery.
Restore & Revive: A Yin & Fascia Release Workshop
90-Minute Workshop
Restore and revive your body in this 90-minute workshop. Fascia surrounds our muscles, organs, and bones, and gives our bodies their structural shape. By releasing fascia, we can ease chronic pain caused by injuries, and repetitive muscle strain as well as prevent injuries. When you release fascia, it restores the body and allows direct access to muscles that bring the body back into its natural alignment. Yin yoga poses apply moderate stress to the connective tissues of the body; the tendons, fascia, and ligaments to increase circulation in the joints and improving flexibility.
In this workshop series, we will begin with 30 minutes of Myo-fascial release with a tennis or massage ball. After we will have a traditional 60-minute yin yoga class. Yin Yoga is a slow, meditative style of yoga where postures are held for several minutes at a time, so you can access deep tissues, such as the connective tissue and the fascia. Many of the postures focus on areas that involve joints such as the hips and shoulders.
After this workshop, your body will feel more open and aligned, and you will have learned simple techniques to incorporate into your personal practice.
Erica Breen is a highly knowledgeable and professional Pilates instructor, with a friendly and focused teaching style that will help you achieve better results.  For the last seven years, I've experienced chronic pain that has limited my participation in Pilates and other activities, resulting in decreased fitness and ability.  I've tried to attend classes in many places around the world and have never before found an instructor who not only understands the mechanics of how my muscles work, but has an endless supply of exercises and ideas to get me working and moving, pain free.  I travel a lot for my work, so am lucky Erica's also a fantastic online instructor, with her online-based sessions allowing me to maintain my routine wherever I am.  Since starting to work with Erica, my range of movement has increased dramatically and she's shared with me knowledge about how and why the exercises work, so I can understand my own movements. Her genuine empathy and accepting approach is refreshing and motivating; I have no hesitation in highly recommending Erica's work.
Aligning Your Body's Natural Clock: Optimizing Circadian Rhythm with Ayurveda
In this workshop, you will learn about the importance of maintaining a balanced circadian rhythm for optimal health and wellbeing, and how Ayurveda can help achieve this goal. We will explore the concept of doshas and their influence on circadian rhythm, as well as the role of Qi in traditional Chinese medicine. 
You will gain an understanding of how to identify your own circadian rhythm and doshic constitution, and how to balance these energies through Ayurvedic practices such as diet, lifestyle, and yoga. 
We will also cover the impact of travel and jet lag on circadian rhythm, and strategies for minimizing its effects. You will leave with a personalized plan for optimizing your circadian rhythm using Ayurvedic principles and practical tips for integrating these practices into your daily routine.
Of all the Pilates instructors, yoga teachers, and physical therapists I have worked with, I can honestly say that Erica is hands down the best.  Since coming to her two years ago with a knee injury and the body ailments of a new(ish) mother of two, I am stronger, more flexible, and possess much greater postural awareness. Erica has an amazing breadth of knowledge when it comes to the human body and it's inner workings – she can tell as soon as I walk into the studio which muscles need to be engaged or released just by looking at me.  Her eye for proper body alignment is unparalleled, and she is very body-positive and truly focused on the health of your body.  Sessions with Erica are fun yet challenging, and she never takes herself too seriously.  She offers the perfect balance of chatting and exercising, without wasting the entire session talking instead of working out.  Even if I'm feeling under the weather I make a commitment to be at our session because I know that both my body and my mind will feel better when I leave. Between her dedication to her clients and her depth of knowledge, Erica is the real deal.
I believe in balancing the body – emotionally, spiritually, and physically. Through my research into injury rehabilitation and psychology, I realized my passion for studying human anatomy and my continuing desire to deepen my understanding of the emotional trauma that stems from life-changing injuries and health struggles.