Are you wondering what it would be like to work with me? See for yourself what my clients have said about their experience.
I have extensive experience with a plethora of therapies and practitioners/therapists, Erica is something special. I was born with cerebral palsy and doctors doubted that I would ever walk. Thankfully, they missed the mark. I was a captain of my high school football team and have completed multiple 5k races. In 2018, I had an unexpected exploratory laparotomy during which my pancreas was cut and I went from a healthy 180 lbs down to 135 lbs while being bedridden in ICU for over a month. I am currently reteaching myself how to walk without crutches as I had grown accustomed to before the surgery. This round of rehab has been daunting and at times has caused me to feel sorry for myself in a way that I had never felt before, but it also has taught me a lot about my body that I wouldn't have learned otherwise. Erica's life long experience with Scoliosis in addition to her additional back injuries seems to have given her the ability to empathize on a level that no one else has in my experience. Working with someone who seems to know what you are up against has always led to better results in all aspects of my life, and rehabilitation is usually lacking on this front. Erica employs knowledge, drive, and creativity almost effortlessly and she is truly an asset to my recovery and a joy to work with.
Erica Breen is a highly knowledgeable and professional instructor, with a friendly and focused teaching style that will help you achieve better results.  For the last seven years, I've experienced chronic pain that has limited my participation in Pilates and other activities, resulting in decreased fitness and ability.  I've tried to attend classes in many places around the world and have never before found an instructor who not only understands the mechanics of how my muscles work, but has an endless supply of exercises and ideas to get me working and moving, pain free.  I travel a lot for my work, so am lucky Erica's also a fantastic online instructor, with her online-based sessions allowing me to maintain my routine wherever I am.  Since starting to work with Erica, my range of movement has increased dramatically and she's shared with me knowledge about how and why the exercises work, so I can understand my own movements. Her genuine empathy and accepting approach is refreshing and motivating; I have no hesitation in highly recommending Erica's work.
I've been taking private lessons from Erica for many years. As someone who's had chronic back pain for 15+ years, Pilates (and especially my workouts with Erica) has truly helped me gain core strength and decrease my pain. Erica provided safe, individualized workouts for me when I was pregnant and after I gave birth. The time I spend working out with Erica is one of the best things that I do for my physical and mental health. It's the best kind of self-care. Erica is a kind, organized, reliable person who truly cares about her clients. She's both a teacher and a friend. I would highly recommend Erica for anyone interested in experiencing the benefits of Pilates.
I started seeing Erica when I was 8 months postpartum with my first baby. My core was weak and I felt sore, tired, and uncomfortable in my body until we started working together. With time, I regained strength and confidence. My experience was so positive that I continued with private sessions through my second pregnancy and postpartum period. Erica's knowledge, positive attitude, and unique approach have made her a valuable aspect of my wellness in this physically demanding season of motherhood.
Erica is like having a physical therapist and a pilates instructor in one. I went to her with two herniated discs and severe lower back pain. She worked with me to develop a plan to strengthen my core from the inside out. She has had personal experience with back pain and is able to apply her first hand account with her expertise and training. She understands everyone is different and adjusts her plan on the spot according to how I feel. I have tried many different solutions for my back pain but pilates with Erica is the one that has helped the most. I notice a significant difference when I take a break from seeing her. I would highly recommend her for back pain.
I began struggling with severe SI and back pain four years ago, to the point where I could only sit for a few minutes at a time, and needed pain-killers for long car and plane rides. I tried physical therapy and sports chiropractors, to no avail. I began pilates group classes and started to feel better, but kept re-injuring myself, creating a very inconsistent work-out regime. It was a terrible rollercoaster, physically and mentally! I then began private pilates classes which helped immensely, and I found an amazing masseuse, which was also key. Still, my pain lingered. It wasn't until I found Erica that I began to consistently feel strong and pain-free. Erica knows exactly how to train my body, through strengthening, re-aligning, and protecting my SI joint. (The root of my evils!) With Erica having immense knowledge of the spine, through her own personal injury, she can take one look at me and can spot what issues need to be worked on right then. Erica is top-notch in her field and has many layers within her expertise. We are now evaluating my diet and hormones and Erica has provided me with the supplements and foods catered to me, specifically. I truly enjoy working with Erica, she is a gift. We have fun, and I leave with a smile on my face!
I started seeing Erica as part of my postpartum recovery. She always knew how to give me a great workout, while being mindful of my specific condition and needs. Once we got further along, she definitely kicked my butt into shape. I love how Pilates can seem gentle and restorative at the time, but is sneakily effective! Now I'm expecting my second baby, and Erica has been wonderful at supporting me through an embryo transfer and the 1st two trimesters so far. Erica is so fun – great at distracting/entertaining you during tough reps! I love my sessions with her and am so pleased with the results I get from each session. I also love the fact that I am able to work with her in person and online. When she is teaching me online it's almost as good as her being there in person. I consistently feel supported and challenged by the sessions we do online, and this has allowed me to continue seeing her on a weekly basis.
Of all the Pilates instructors, yoga teachers, and physical therapists I have worked with, I can honestly say that Erica is hands down the best.  Since coming to her two years ago with a knee injury and the body ailments of a new(ish) mother of two, I am stronger, more flexible, and possess much greater postural awareness. Erica has an amazing breadth of knowledge when it comes to the human body and it's inner workings – she can tell as soon as I walk into the studio which muscles need to be engaged or released just by looking at me.  Her eye for proper body alignment is unparalleled, and she is very body-positive and truly focused on the health of your body.  Sessions with Erica are fun yet challenging, and she never takes herself too seriously.  She offers the perfect balance of chatting and exercising, without wasting the entire session talking instead of working out.  Even if I'm feeling under the weather I make a commitment to be at our session because I know that both my body and my mind will feel better when I leave. Between her dedication to her clients and her depth of knowledge, Erica is the real deal.
After the consultation call, Erica created a series of four custom exercise videos to help me manage shoulder pain. I use the videos frequently and am very happy with the results. I like the increasing intensity of the video series, which allows me to build up my strength and progress my abilities. The exercises are very effective, and I feel they are key in reducing the pain I am experiencing. I am very happy with the results.
Having been a competitive as well as casual runner and swimmer, I found myself dissatisfied with the limitations of my body following rotator cuff surgery. The ultimate insult was the double mastectomy. Although I could still walk and do a little jogging, my balance and flexibility was compromised. Erica's skill at working to overcome injuries has made movement and exercise a joy. I have grown stronger; the stretching has also benefited my balance, flexibility and posture. I only wish I had met Erica years ago. 
Functional pilates sessions with Erica are fun, challenging and very rewarding. She has extensive knowledge of anatomy, best practices and is always up for experimenting with new things. As a male in his mid 30s, who only does HIIT cardio/weights otherwise, with Erica I've improved my movement patterns, gained strength in muscles long forgotten and improved my posture considerably. 
Thank you, Erica, for your help.  You have made me feel comfortable and very happy with my progress. I would never have believed that I could do Pilates but thanks to your knowledge and patience I have succeeded. My leg that was affected by Polio now has much more movement and is stronger than before.
I always look forward to my functional pilates sessions with Erica.  Her knowledge in anatomy, function, and pain have been a huge help in managing my chronic pain. I'm stronger, more flexible, and have gained tools to help myself in-between sessions. She provides a safe, positive, judgement free space.
I just recently had my first experience with Yin Yoga and Fascia Focus… Wow! This session was exactly what my body was needing. I struggle with stiffness and pain in my shoulders and neck. Erica was amazing! She is kind, personable and knowledgeable. She taught me how to listen to my body and worked me through therapeutic yet relaxing ways of releasing tension. She also equipped me with some tools so that I could incorporate some of these moves at home for continued improvement. I left the class feeling like a new person…strong, empowered and energized!  Thanks Erica!!
I started breath work with Erica not too long ago, and I already notice such a tremendous difference in my day to day life. I've always wanted to do breath work, but always had difficulty on my own whenever I tried. Having someone there to personally guide and curate your experience according to your own needs has made it unlike anything else. I've already noticed how much these sessions have helped with my anxiety in general by setting a relaxed tone for the rest of my week, but also in practice when I am placed into a stressful environment. The sessions and Erica are beyond great within themselves, but I also am beyond happy with how much the lessons have become engrained within my daily life.
I met Erica while taking her class in Bali.  We got to chatting after class and I instantly noticed her enthusiasm and passion for helping others by sharing her knowledge and experience in health and wellness.  She shared with me some of her history in injury and I was immediately drawn to her. Learning by textbook is one thing, but learning by experience is another. I was also drawn by her organic approach to exercise by listening to the body and what it needs, not pushing and pushing to get the aesthetic results….which is what I was so used to doing prior to working with her. During our sessions, I found her to be intuitive, present and knowledgeable and I loved the way she let the conversation flow to where it needed to go.  I always left our meeting's learning MUCH more than I anticipated I would and with a new found enthusiasm for my OWN health and skills to get the ball rolling. She completely customized a health program for me that focused on the root of my concerns and I felt supported and balanced as I began this new journey. I have seen many health and wellness coaches and I genuinely find Erica to be one of the best.
When I sought Erica's nutritional services, I was coming off of three months on Keto, and to be honest, I felt terrible. I had success on Keto, but it was marginalized compared to the side effects I was feeling. Under Erica's guidance, we were able to find supplements to offset some of the side effects and put me on a path for long-term success under a clean (but still flexible) plan. I found that her list of prescribed foods on a weekly basis made cooking fun again, and I learned to appreciate the nutritional benefits of my new diet. My skin is glowing again, I don't feel lethargic or swollen anymore, and I can't thank Erica enough for putting me on a sustainable life path with food. 
I was referred to Erica by a friend to see if she could help me with an old torn labrum shoulder injury that was still bothersome at times.  We met several times and discussed my goals and she put together a comprehensive plan that addressed the injury plus other goals of mine, including weight loss and help with nutrition.  She is a patient teacher and I felt like she truly listened to me and wanted me to succeed. The exercises she showed me have helped my shoulder strength and pain and the nutrition plan has resulted in some weight loss but more importantly overall better health.
I write with great confidence and enthusiasm regarding the recommendation of Erica Breen. As the first student to join her mentorship program, I came to not only know her as a teacher, but as a caring individual who wants to share her knowledge with those who want to learn! What originally drew me to Erica's mentorship program was her passion, diligent work ethic, organized nature, and personality. Erica designed her mentorship program in a format that is easy to follow and actually makes sense! I truly appreciated the time she dedicated to making each of the lessons enjoyable throughout the program. Each lesson included; images, easy to read verbiage, activities, videos, and summaries. Throughout the process, Erica held me accountable to stay on top of my studies and homework. This was much needed at times when I felt like giving up! She also encouraged me to ask questions and dive deeper into each section. In conclusion, I found the mentorship program to be a success and a positive influence to my Pilates studies. I look forward to continuously using everything I learned on a daily basis as a Pilates Instructor!
Erica came and covered all my classes at my studio whilst I took a break. She was wonderful, extremely easy to work with, super professional and she jumped straight in. Made me feel really comfortable to leave everything and go away for a week. She ended up staying for 3 weeks so that I could extend my time off from teaching. I would highly recommend Erica and will be asking her to come back again soon!
- KAREN
Inspire Health & Wellbeing Atelier

From our first email, phone conversation and follow up correspondence, I felt confident that I could depend on Erica to cover my studio while I went on vacation. As it turned out, my clients really liked her and all said they would welcome her return in May. Erica showed up to every class with a positive attitude. I also came home to a clean home which I appreciated as well. Erica is surely a professional that you can count on. 
- KATHY
Passport Pilates Studios
I absolutely loved the Restore & Revive workshop! We started off with the fascia release all over the body and ended with a yin yoga practice. Erica was wonderful and thorough in teaching us how to properly use the props we were working with, along with giving variations for each move we worked through. She taught us great and practical techniques that can be added to our everyday practice. I highly recommend her & cannot wait for the next one!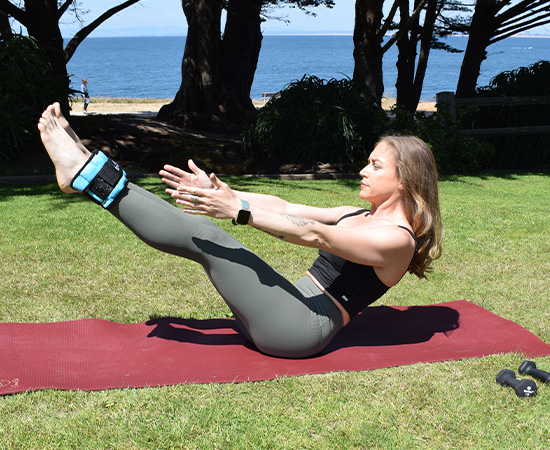 I believe in balancing the body – emotionally, spiritually, and physically. Through my research into injury rehabilitation and psychology, I realized my passion for studying human anatomy and my continuing desire to deepen my understanding of the emotional trauma that stems from life-changing injuries and health struggles.