Personalized Wellness Sessions
Your health and well-being should always be a top priority, even when faced with busy schedules, budgets, and travel. That's why I am delighted to offer you a range of online one-on-one sessions specifically tailored to meet your unique needs.
No matter where you find yourself in the world, all you need is your phone, iPad, or laptop with a camera to embark on a transformative journey with me. Through our virtual sessions, I will personally guide you, providing expertise and unwavering support as we work together to achieve whole-body healing and strength.
With a wide range of techniques and methodologies at my disposal, I am dedicated to equipping you with the tools and guidance you need to cultivate a balanced and healthier body and mind.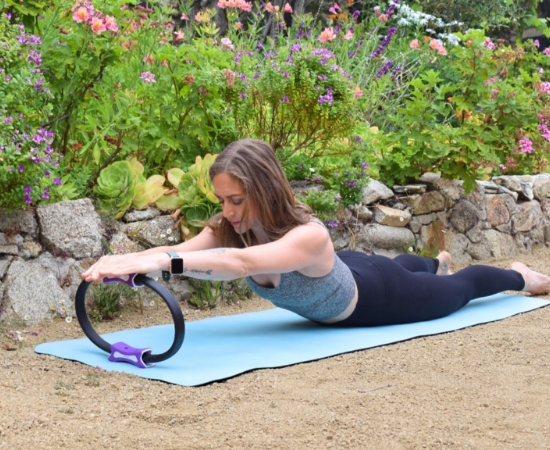 Functional Pilates Session
Price: $85 per 60 minute session
Join me for a transformative Functional Pilates Session that focuses on improving your range of motion, flexibility, and overall strength. This private movement session begins with a thorough assessment of your body, allowing us to integrate healing techniques tailored to your unique wellness goals. Drawing inspiration from traditional Pilates, yoga exercises, and functional corrective movements, we embark on a dynamic full-body workout. By incorporating resistance-based and low-impact movements, we effectively strengthen, energize, and sculpt your body, with special attention given to those hard-to-reach muscles. As we wrap up the session, you'll leave feeling invigorated, lengthened, and stronger. My sessions are enriched by my expertise in a variety of functional movement methods, ensuring a holistic and impactful experience.
You have the option to engage in this session using just your body weight and a mat, or we can incorporate props to enhance the workout.
Props I recommend are a theraband, small loop bands, hand weights, ankle weights, magic circle, and pilates ball.
*This can include many special populations such as spinal conditions, pre-post/natal, chronic pain or illness, osteoporosis, and neurological disorders
I started seeing Erica as part of my postpartum recovery. She always knew how to give me a great workout, while being mindful of my specific condition and needs. Once we got further along, she definitely kicked my butt into shape. I love how her pilates sessions can seem gentle and restorative at the time, but are sneakily effective! Now I'm expecting my second baby, and Erica has been wonderful at supporting me through an embryo transfer and the 1st two trimesters so far. Erica is so fun – great at distracting/entertaining you during tough reps! I love my sessions with her and am so pleased with the results I get from each session. I also love the fact that I am able to work with her in person and online. When she is teaching me online it's almost as good as her being there in person. I consistently feel supported and challenged by the sessions we do online, and this has allowed me to continue seeing her on a weekly basis.
Yin Yoga & Fascia Release
Price: $100 for 75 min session
Join me for a blissful and transformative 75-minute session that combines the restorative powers of Yin Yoga and Fascia Release. Inspired by my workshop "Restore and Revive," this experience is designed to rejuvenate your body and nurture your overall well-being.
During this session, we will dive deep into the profound effects of fascia release. Fascia, the intricate web-like structure that envelops our muscles, organs, and bones, holds the key to unlocking our body's natural alignment and relieving chronic pain caused by injuries and repetitive muscle strain. By gently releasing tension and tightness within the fascia, we create space for healing and restore harmony to our entire system.
To begin, we will dedicate 45 minutes to Myo-fascial release, utilizing the therapeutic benefits of a massage ball and foam roller. Through targeted pressure and mindful manipulation, we will dissolve tension and encourage the healing process within the fascia, paving the way for profound transformation.
Following the release work, we will gracefully transition into a 30-minute Yin Yoga practice. Yin Yoga is a gentle and meditative style that involves holding poses for an extended period, typically several minutes. By allowing ourselves to melt into these postures, we grant our connective tissues, tendons, fascia, and ligaments the opportunity to be nurtured and revitalized. We will focus on areas that often hold tension and involve joints, such as the hips and shoulders, offering deep release and restoration.
As the session concludes, you will emerge feeling more open, aligned, and at peace within your body. Additionally, you will gain valuable insights and simple techniques that you can effortlessly integrate into your personal practice, empowering you to continue your healing journey.
I just recently had my first experience with Yin Yoga and Fascia Focus… Wow! This session was exactly what my body was needing. I struggle with stiffness and pain in my shoulders and neck. Erica was amazing! She is kind, personable and knowledgeable. She taught me how to listen to my body and worked me through therapeutic yet relaxing ways of releasing tension. She also equipped me with some tools so that I could incorporate some of these moves at home for continued improvement. I left the class feeling like a new person…strong, empowered and energized!  Thanks Erica!!
Price: $40 for 30 min session
Are you ready to explore the transformative power of meditation and breathwork?
Join me for an enlightening 30-minute session that serves as an introduction to these profound practices. Discover the wonders of breathwork, an active meditation technique that utilizes your physical breath as a focal point to soothe your mind, enhance your awareness, alleviate stress, and bolster your immune system.
During our session, I will guide you through various practices that you can incorporate into your own routine. By the end of our time together, you will experience a deep sense of calm and inner peace, along with an enhanced self-awareness.
In addition to the foundational techniques, we will discuss the art of comfortable sitting during meditation, establishing a regular meditation habit, and methods for enriching your practice over time.
This session promises to equip you with valuable tools and insights, empowering you to cultivate tranquility and delve deeper into your mindfulness practice.
I started breath work with Erica not too long ago, and I already notice such a tremendous difference in my day to day life. I've always wanted to do breath work, but always had difficulty on my own whenever I tried. Having someone there to personally guide and curate your experience according to your own needs has made it unlike anything else. I've already noticed how much these sessions have helped with my anxiety in general by setting a relaxed tone for the rest of my week, but also in practice when I am placed into a stressful environment. The sessions and Erica are beyond great within themselves, but I also am beyond happy with how much the lessons have become engrained within my daily life.
Comprehensive Wellness Program
Welcome to my comprehensive wellness program, where the fusion of movement and mindfulness paves the way for your profound healing and complete revitalization. Join me on an exceptional journey towards total well-being, with my unwavering support at every step.
What's included:
Personalized Sessions: You will receive 12 sessions designed exclusively for you. Dive into a world of choices, whether it's Functional Pilates, tranquil yin/fascia release practices, individualized nutritional guidance, or an immersive journey into meditation and breathwork. Together, we'll sculpt a program that harmonizes perfectly with your aspirations.
Flexibility and Convenience: Life's demands may be constant, but they won't impede your progress. Revel in the adaptability of a customized exercise video, enhancing our private sessions. With a personalized recorded exercise video, you can practice at your convenience, ensuring unwavering commitment to your wellness expedition.
Embark on this extraordinary path towards all-encompassing well-being. Unleash the transformative potential of movement, mindfulness, and customized nutrition to spark your own journey of profound healing and rejuvenation.
*If you're looking to try everything and get the best value, this program is the perfect choice. It offers a cost-effective way to experience all of my services without the hassle of buying them individually.
I began struggling with severe SI and back pain four years ago, to the point where I could only sit for a few minutes at a time, and needed pain-killers for long car and plane rides. I tried physical therapy and sports chiropractors, to no avail. I began pilates group classes and started to feel better, but kept re-injuring myself, creating a very inconsistent work-out regime. It was a terrible rollercoaster, physically and mentally! I then began private pilates classes which helped immensely, and I found an amazing masseuse, which was also key. Still, my pain lingered. It wasn't until I found Erica that I began to consistently feel strong and pain-free. Erica knows exactly how to train my body, through strengthening, re-aligning, and protecting my SI joint. (The root of my evils!) With Erica having immense knowledge of the spine, through her own personal injury, she can take one look at me and can spot what issues need to be worked on right then. Erica is top-notch in her field and has many layers within her expertise. We are now evaluating my diet and hormones and Erica has provided me with the supplements and foods catered to me, specifically. I truly enjoy working with Erica, she is a gift. We have fun, and I leave with a smile on my face!
Price: $150 for one video
Price: $400 for three videos
Introducing your exclusive, forever-accessible, personalized exercise video, available in either a 60-minute session or two 30-minute sessions. This comprehensive offering includes a 30-minute consultation call.
During our consultation call, we will delve into your fitness aspirations, address any concerns or injuries, and fine-tune the exercise video to ensure a safe and effective workout experience. With a deep understanding of your goals, preferences, props at home, and physical considerations, I will design and film a workout that is perfectly tailored to you.
Experience the freedom of working out on your terms, in the comfort of your own home, at a time that suits your schedule. With your personalized exercise video, you can follow along whenever it's convenient for you, empowering you to prioritize your fitness journey without compromising on flexibility.
After the consultation call, Erica created a series of four custom exercise videos to help me manage shoulder pain. I use the videos frequently and am very happy with the results. I like the increasing intensity of the video series, which allows me to build up my strength and progress my abilities. The exercises are very effective, and I feel they are key in reducing the pain I am experiencing. I am very happy with the results.
Get Started on Your Journey to Better Health!
Interested in working with me but not sure how to get started? Hop on a free discovery call and learn how we can work together.